WELCOME TO TRAFFIC JAM WEEKEND LINK PARTY 318
Can link party 318 collaboration can help you leapfrog your competition to grow revenue and profitability of your business? Finding your competitive advantage is a critical mission to success. Think different and sell different instead of staking a position in an already crowded marketplace of the rat race.
Use these examples and try them out.
Leverage assets you do not own like social media platforms and expand your network.
Crowdsourcing and leveraging freelancers in the gig economy is one of the fastest ways to engage with real people. Hire right and pay well.
Use the latest tech innovations at your disposal and scale as you level up.
The mark of an innovative company is not only that it comes up with new ideas first, but also that it knows how to leapfrog when it finds itself behind. — Steve Jobs #thextaordinarionly #smallbusinessgoals #startupbusinesssuccess…
Click To Tweet
Linkup with link party 318
Upload your old online posts and more on link party 318 of Traffic Jam Weekend!
Link up your content, connect with others, and learn something with us.
Tracy: View From The Beach Chair | Twitter | Facebook | Pinterest I Instagram
Michelle: My Bijou Life | Instagram | Pinterest
Hazlo: ThExtraordinariOnly | Tumblr | Twitter | Instagram | Flipboard | Facebook | Pinterest | Keen | Mix | YouTube
Marsha: Marsha in the Middle | Pinterest | Instagram
If you would like to become a permanent or guest co-host for a link party like link party 318, complete this short form.
---
Kimberly chose HOW TO GET CREATIVE WEDDING HASHTAGS FOR YOUR BIG DAY from Bauchle Fashion.
"I love the fun, trendy ideas that are available for sharing memories of your big day."
Marsha chose Charleston in the Spring, Part 1 from A Day of Small Things. "I just had to pick this blog post because my oldest granddaughter was born in Charleston! I love visiting the city and even contemplated moving there after retirement.
But, heat and humidity are not my friends! It was fun to read about as well as see photos of places familiar to me! There truly is no place like the Holy City!"
Link up at link party 318 for a feature like these
Michelle chose Songful Style Link Party | "Leather and Lace" from Shelbee On the Edge. "Shelbee's outfit is so imaginative and beautiful. I love how she used the lace duster over jeans. What a fun juxtaposition."
Tracy chose Unicorn Candy Bark With Printable Tag from Me and My Inklings. "This would make a cute thank you gift for teachers, coaches or other important people on life's journey. I love things that people can use up! What better gift than a treat to consume! The cute card that you can print can easily be turned into a thank you card! Love it and will be using it for Little Girls teachers!"
Additional link party 317 features
Hazlo chose Beeswax Lotion Bar Recipe from The Socialite's Closet. "Learning how to make your own beeswax lotion bars taps into the creative self. There is someone right now reeling from the drastic effect of high inflation and is stuck in a rut with a pile of credit cards, not knowing how to crawl outta debt now and stay out.
This blog post and other more homemade beauty products on the site is a route to plunging into the painful entrepreneurship journey of a startup or small business. If you know anyone struggling to make ends meet, forward them this so that they know that they just need to rise up and take intelligent action. Why? Because creativity is our innate identity."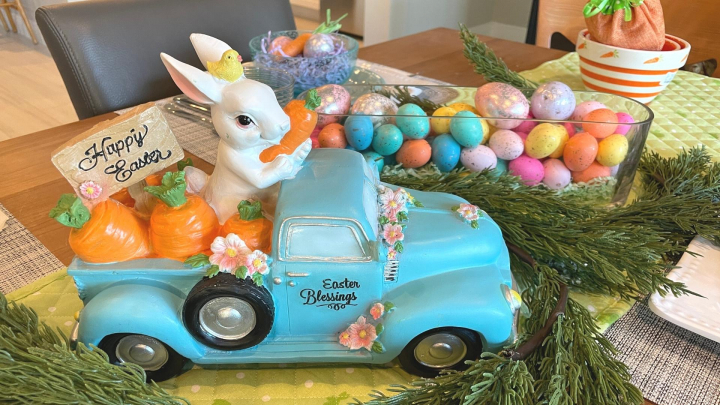 The post with the most views was Easter Table Centerpieces & Tablescapes from Home Tips for Women.
Thank you featured bloggers for sharing!
Your posts will be pinned to the Traffic Jam Weekend Link Party Pinterest board. Please grab the HTML code for a special Traffic Jam Weekend featured button below to display on your post blog featured in link party 317.
---
Just a few rules for the lively link party 318…
Grab the HTML code for a Traffic Jam Weekend button below for your site

Link up as many of your old posts as you like below

Take some time and visit the other posts uploaded to link party 318

Create some traffic jam for the hosts of this party

Share this link party 318 on social media with the hashtag #trafficjamweekend
Before you get started, you are qualified to stop by and take a few seconds to comment. Let us know your thoughts. It such a delight to welcome you to kindly comment, like and share link party 318!
Please visit the featured posts from their original source. We appreciate your kindness.
Other recommended posts you'll be interested in
What help do you require in your business right now?
Now share link party 318
Help us to to reach a startup or small company in dire need of a darling online presence to grow their brand.